---
The Beavercreek Rotary Club was chartered on May 12, 1973, as the local chapter of Rotary International (RI), the world's largest service club, a 100-year-old organization devoted to global friendship, goodwill and community betterment. RI has over 1.2 million members worldwide, attending weekly meetings at almost 32,000 clubs in 166 countries. Its trademark is a gear wheel, a symbol made into a lapel pin worn by all Rotarians.
The Beavercreek Rotary Club currently has 85 members, including community leaders from retail business, government, education, engineering, construction, finance, real estate, law, charitable groups and the medical arts - men and women, young and old, active and retired. They generally meet every Friday noon at Walnut Grove Country Club for lunch and a program of guest speakers, and regular attendance is expected. Those who miss the Friday meetings are asked to "make up" by attending meetings at other Rotary clubs.
The motto of Rotary is "Service Above Self," which this club honors by contributing time and money to various community causes. The club elects officers and board members every year, and each board member is responsible for one aspect of the club's life - club service (administration), community service (to Beavercreek and environs), international service (such as student and group study exchanges with other countries) and vocational service (career opportunities).
Through its own Foundation, the club supports several programs, most notably the Polio Plus campaign of RI aimed at eliminating polio worldwide. Although some inaccessible areas are still to be reached, 97% of the world's population has now been inoculated against the ravages of that disease. Club members have contributed over $121,000 to Polio Plus since the campaign began in 1985.
The Rotary name is familiar to many residents because of Rotary Park, a sports and recreational facility initiated by a gift of land from a former Beavercreek Rotarian, Marion Pennick. The club also participates in the Beavercreek Popcorn Festival, Fourth of July activities, Lofino's Christmas Basket distribution and a quarterly clean up of two miles along Route 35 east of Orchard Lane.
The Beavercreek Rotary Club helps fund a dozen area youth programs each year and provides substantial financial support directly or through its Foundation to such organizations as the Beavercreek YMCA, the Greene County Historical Society, the Beaver Creek Wetlands Association, the Beavercreek School's Multi­Handicapped program, the Beavercreek Bikeway Committee, the Ronald McDonald House, Deaf Link, the Epilepsy Foundation, the Beavercreek Strive program to encourage better scholarship at the high school level, the Family Violence Prevention Center and an annual distribution of dictionaries to every Third Grader in the Beavercreek School system.
Each Rotary Club may submit a major project that it supports for additional RI funding. The Beavercreek Rotary Club's chosen project is the Good Shepherd Clinic, a basic health provider to the people of rural Belize in Central America. Several medical specialists from the club have spent extended periods at the clinic as volunteers, and funds have been contributed to upgrade its furnishings and level of care over the years, including help from RI
Membership dues cover the club's cost of meals and operational expenses, but a few special fund-raising events, such as the annual Beavercreek Rotary Memorial golf tournament, supply most of the income to support its various community services.
--John Webster
---
Beavercreek Rotary Club was spawned from the Xenia Rotary Club. As a result of F. E. "Bus" Hill, the regional manager for D P & L and Bob Scott, the Knollwood florist, Bus now deceased and both were in the Xenia Club. They approached Scott Hadley with the concept of a Beavercreek Club being formed.
Scott admitted he did not know what Rotary was, but through networking a core of 26 signed on, and May12, 1973 Beavercreek was granted a charter from Rotary International.
In that point in her history, Beavercreek had outgrown her bib overhauls, removed her clay covered clodhoppers, and shed her corn cob status with the rutted cow paths, and was transforming into the viable residential community with asphalt streets, plats of large-brick custom-built homes.
Indeed, her city status came full circle when she no longer played in the Greene County Basketball Tournament against the county's rural schools, and became a major competitor in the Miami Valley League and against the schools in the Dayton area.
Without a doubt, Beavercreek is now the largest city in Greene County and because of that Beavercreek Rotary is the nascent club of educators, engineers, doctors, bankers, insurance brokers, Realtors, lawyers, politicians, CPA's and other professionals.
According to the three amigos that I interviewed: Scott Hadley, Tom Mouat, Mike Lofino; they were some of the clubs' founders. I learned the club was more of a men's club that enforced a coat and tie at the meetings, and 60% attendance was mandatory, too. Today those are forgotten dictums.
The triad made the point the club had a bonding influence and being a member is a vocational advantage. They agreed this was one of the underlying bases for the club's continued success in attracting members.
Meanwhile, the sine qua non to join the Beavercreek Rotary is admission by employment classification, which is jealously guarded by the one-person from one-profession, or one-business, or being a member in same firm, or by a family legacy. Now the pronouncement is silent.
Indeed, from the original twenty-six, the club is more than three times that score.
In those early days of yesteryear, the club met for the one-hour lunch at the Beaver Vu Bowling lanes and around falling ten pins, clanking beer bottles and a ceiling of tobacco smoke.
What has served us so well was our program chairmen had done a yeoman's service and scheduled outstanding speakers, or the timely programs. He along with our erudite, wordsmith secretaries, and the ebullient sergeants-of-arms who entertains with wit, circumstance and information, and makes paying fines a privilege. They stir the Friday noon atmosphere with joviality and were the catalyst for good attendance. Oh yes, make ups at other Rotary Clubs was still encouraged. For fun, let us time lapse and invite Rip Van Winkle into our lair. Rip learned the club had matriculated from bowling balls to golf balls. For example, we met at the Walnut Grove Country Club for twenty-five years and ate lunch on white table clothes. Then the Beavercreek Golf Course Club House became our Friday host for our noon port-of-call.
The wily Rip came from the Catskill Mountains and from his wilderness experience he was aware of the club's difficulties to clear and to develop the nine acres known as Rotary Park, which was a gift from a former Beavercreek Rotarian, Marion Pennick.
Indeed, the club cleared the brambles, ripped away the poison N ivy vines, mowed the weeds, and removed the tons of stone. However, there was a casualty. One of our members excited a nest of hornets that relentlessly pursed him to the adjoining creek. It was dry. The poor chap joined Kiwanis. He said it is safer. Rotary Park is now one of the club's legacies to Beavercreek.
Wrapping his brindle beard as a scarf around his neck, Rip discovered the club membership now included women since 1988, and a lady has often ridden the white mount as the club president. With its commitment of service above self motto, Rip was instructed, the club supported the Good Shepherd Clinic, which was a basic health provider to the people of rural Belize in Central America. Also, he was impressed with our annual gift of dictionaries to Beavercreek's third-graders, the Christmas food baskets, and that we were active in Rotary International's Polio Plus campaign to eradicate polio worldwide. In addition, our Club funded a dozen area youth programs each year and provided substantial financial support directly, or through its Foundation to: the Beavercreek YMCA, the Greene County Historical Society, the Beaver Creek Wetlands Association, the Beavercreek School's Multi- Handicapped program, the Beavercreek Bikeway Committee, the Ronald McDonald House, Deaf Link, the Epilepsy Foundation, 9-11 Memorial, the Beavercreek Strive program to encourage better scholarship at the high school level, the Family Violence Prevention Center, an annual speech contest and funds for Owen Place, which is the first playground in our nation for the physically challenged. Also, we continue to make substantial financial gifts to the Beavercreek Church of The Nazarene for their weekly Feeding the Creek of several hundred needy Beavercreek families with breakfast, lunch and dinner for Saturdays and Sundays.
Rip carried a staff that with a curled knob; a club that he used when he played cow pasture pool with gutta-percha balls. Titleist was not on the market, yet. Because of that Old Rip had ascertained that our club's annual golf tournament is one of its major money sources for its annual giving, money now augmented by the annual pancake breakfast. When he learned, we sold popcorn burgers during the Labor Day Holiday, he thought he would like to try one, but not just now, thank you Before the conclusion of our session, Rip ruefully asked me what made our club so special. I told him our intricate-personal differences; we were a club of iconoclasts. Each member added something special. And from that, we developed the reputation as the magnum opus of service clubs in Greene County.
--Essay's author "Rip Van Tom" aka Tom Welch and the editor "Sandy Winkle" aka Sandy Watson.
---
Marion & Matty Pennick
Outstanding Community Service Award
This award is presented to an individual or team whose significant contributions and efforts enabled the Beavercreek community to realize a major benefit in its life together. Acts of recipient symbolize Rotary's motto of "Service Above Self". Contributions and efforts can be for a significant single event or for multiple events sustained over a period of time. The previous winners of the award are as follows:
---
Mohan N. Joshi

December 23, 1990

* Robert D. Koeller Jr.

May 28, 1992

* Kenneth L. Priaulx

January 15, 1994

John A. McCann

April 20, 1995

Gerald C. Waterman

June 21, 1998

Ronald L. Johnson

June 7, 1999

* Charles M. Larson

June 21, 1999

Charles B. Thorn

January 15, 2000

Charles J. "Charlie" West

January 27, 2003

Edward G. "Doc" Austin

March 6, 2003

* Marion S. Penick

April 7, 2005

July 16, 2004

Francis Leonard "Len" Holihan

December 23, 2004

* Wayne M. Spray

July 10, 2010

John K. Webster

July 2, 2011

January 22, 2012

May 12, 2012

December 1, 2012

Rafael L. "Marc" Marderosian

November 19, 2013

Neil V. "Skip" Raymond

May 23, 2015

August 16, 2016

Dr. Steven Victor Lee

May 21, 2017

* Bryon "Lee" Schatzley

October 26, 2018

Dr. Frank E. James Jr.

March 13, 2019

* William R. "Bill" Tuxhorn

October 29, 2019

Cassandra J. "Sandy" Watson

December 19, 2019

Nick P. Apple

July 30, 2020

Richard J. "Rick" Grove

December 5, 2020

Thomas E. "Tom" Welsh

September 1, 2021

Robert "Bob" Wilda

November 12, 2021

* David L. "Dave" Fleming

April 1, 2022

*

Arthur Scott Hadley

May 13 2022
* Indicates Past Presidents
These member passed away while members of our club.
---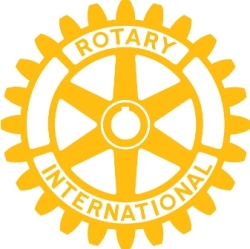 ROTARY'S WHEEL EMBLEM
A wheel has been the symbol of Rotary since our earliest days. The first design was made by Chicago Rotarian Montague Bear, an engraver who drew a simple wagon wheel, with a few lines to show dust and motion. The wheel was said to illustrate "Civilization and Movement." Most of the early clubs had some form of wagon wheel on their publications and letterheads. Finally, in 1922, it was decided that all Rotary clubs should adopt a single design as the exclusive emblem of Rotarians. Thus, in 1923, the present gear wheel, with 24 cogs and six spokes was adopted by the "Rotary International Association." A group of engineers advised that the geared wheel was mechanically unsound and would not work without a "keyway" in the center of the gear to attach it to a power shaft. So, in 1923 the keyway was added and the design which we now know was formally adopted as the official Rotary International emblem
What is the story behind the Rotary wheel pin?
The first lapel pin in the history of the Rotary was designed and made by New York Rotary Club member, John Frick on October 14, 1909 and worn by the club's first president Bradford Bullock from 1909 until his premature death in 1911 (At the time, he was serving as VP of the National Association of Rotary Clubs). The forerunner of the traditional Rotary pin worn today, it features the Rotary wheel has it appeared in its earliest representation with eight spokes, no cogs, and no keyway.
The wheel itself became the symbol of Rotary in 1906, a year after the club's formation in Chicago. Asked to design a symbol for the new club, Chicago Rotarian Montague Bear, an engraver, drew a simple wagon wheel with a few lines to show dust and motion (14 spokes, no cogs, no keyway). Paul Harris reasoned that the wheel symbolized "Civilization and Movement." One observant Rotarian pointed out that a wheel would not generate clouds of dust in front of it, so Montague removed the offending cloud and that design remained the emblem for Chicago until 1912.
When new clubs formed, they adopted the wheel in symbols of their own. Our club integrated the New York wheel and an oak tree as our symbol. It appears on the top of our first Live Oak newsletter in 1914.
In 1910, the Rotary Club of Philadelphia added cogs to create a working wheel, symbolizing members working together, literally interlocked with one another to achieve the organization's objectives. They used 19 cogs in honor of their club, the 19th in Rotary. They created hundreds of metal pins with this design and successfully pitched it as the new official international wheel in 1912. It didn't hurt that the president of the Philadelphia club [who had designed that club's emblem] became president of the International Association of Rotary Clubs at the 1912 Duluth convention.
In 1918, two Rotarian engineers from the Duluth Club Charles Henry Mackintosh and Oscar Bjorge (formally of Minnesota) petitioned Rotary to amend the design of the wheel. They argued that a cogwheel with 19 cogs would not work. Also, the emblem had square-cornered teeth of disproportionate size, and the cogs were irregularly spaced. Charles called it, "An anachronism to engineers." Oscar called it "an insult to engineering that only the brain of an artist could conceive." Oscar sketched a new wheel, with 6 spokes (symbolizing the 6 Objects of Rotary at that time) and 24 cogs or teeth. This design was presented to the Rotary world in 1920.
However, there remained many versions of the Rotary wheel in use around the world by the different clubs. The Oakland Club was still using its 1914 wheel and oak tree in 1922. It wasn't until 1922 that the Rotary International Association declared that all Rotary clubs should adopt a single design as the exclusive emblem of Rotarians. But, before the approval of Charles and Oscar's gear wheel, the President of Rotary Club of Los Angeles, Will Forker submitted one change: "The 'hub' design of the new 'wheel' is that of an 'idler' wheel or gear, there being no provision for the reception or transmission of power to or from a shaft," he argued. But, he said, incorporating a keyway would make the new wheel "a real worker." Oscar and Charles heartily agreed. So, in 1923 the keyway was added and the design, which we see on our pins was formally adopted as the official Rotary International emblem.
Why wear a Rotary pin?
Reasons for wearing a pin varied: for publicity of Rotary, for pride, for acceptance and recognition, for the start of easy conversation with other Rotarians wherever you go. Wearing a Rotary Fellowship pin shows a Rotarian's vocation, hobby or recreational interest.
Past RI President Bob Barth (1993-94, from the Rotary Club of Aarau, Switzerland) felt that a Rotary pin says this about the wearer: "You can rely on me, I am dependable, I am reliable, I give more than I take, and I am available."
---
Date last updated: May 16,2022